When I saw the title of this book I had to chuckle: For Better or For Work: A Survival Guide for Entrepreneurs and Their Families. When you decide to jump into self-employment, it certainly becomes a family affair - doesn't it?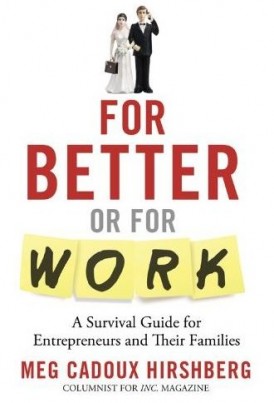 Meg Hirshberg,

author of For Better or For Work

provides tools to building a successful business without sacrificing your personal relationships. Entrepreneurship is a financial and emotional roller coaster and we strap our families in for the ride (whether they like it or not). Meg is an authority figure on the subject; she is a wife, mother of 3, freelance writer and co-founder of Stonyfield Farm organic yogurt.
If you think your personal relationships may be suffering due to your self-employed aspirations ask yourself:
How many times have you asked your child to "Shhhh..." while you were finishing an email?
When was the last time you asked your spouse to pick up the childcare slack while you planned a multi-day meeting across the country?
Are you having an affair with a sexy little accomplice that knows more about your life than your spouse? (a.k.a Your Smartphone)
If you're uncomfortable with any of the scenarios above you may benefit from reading Meg's book. Her advice also touches on the profound gesture of faith and often uncomfortable complications that can arise with business loans amongst family, how to balance care of your babies- that is your literal children and your figurative business-baby, and what to do when you're looking to transition your business to dissolution or when you're ready to pass the reigns.
The book is peppered with stories of other entrepreneurs with devastating challenges and inspiring wisdom. An easy, fun read and very relatable for anyone who is self-employed or is married to a risk-taking entrepreneur. I especially favor the ends of each chapter which give you suggested lists of "Things to Talk About" and "Things to Do" in order to keep your relationships on track. It's like marriage-counseling for entrepreneurs without the copay.
www.sleeveshirtconsulting.com